Significance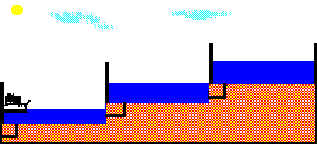 The Welland Canal is important because of its ability to move ships full of cargo up and down the Niagara Escarpment and therefore contribute to the economic growth and development of Canada and the United States. Approximately 40,000,000 metric tonnes of cargo is carried through the Welland Canal annually by over 3,000 ocean and lake vessels. What makes the Welland Canal fascinating is how it moves these ships up and down the escarpment. The canal utilizes its most abundant resource - water, combined with the Earth's gravity to lift and lower ships in a watertight chamber called a lock. It is an example of brilliant, yet simple innovative engineering.

The transportation of goods is not the Welland Canal's only purpose. The canal's founding father William Hamilton Merritt originally conceived the idea for a canal as a way of providing a consistent source of water for the area's local mills. Today that purpose still holds true with the canal's water being a major resource for industry in Niagara, serving steel mills, ship builders, paper mills and automobile parts manufactures.

The canal also serves the people of Niagara indirectly, by providing water for their everyday use. The canal water is even used to generate electricity at a small local power plant. One of the most overlooked benefits of the Welland Canal is the recreational pleasure it provides to all who visit and use its connecting lakes, waterways and surrounding trails. The canal area is full of activity with people ship gazing, fishing, hiking and boating all summer long.
---
Welcome | Tour | Location | Transit Info | Song
History | Significance | Train | Trail | Tall Ships | Accident
Attractions And Accommodations